Maguro Sushi
160 E 28th St, New York, NY 10016
Order now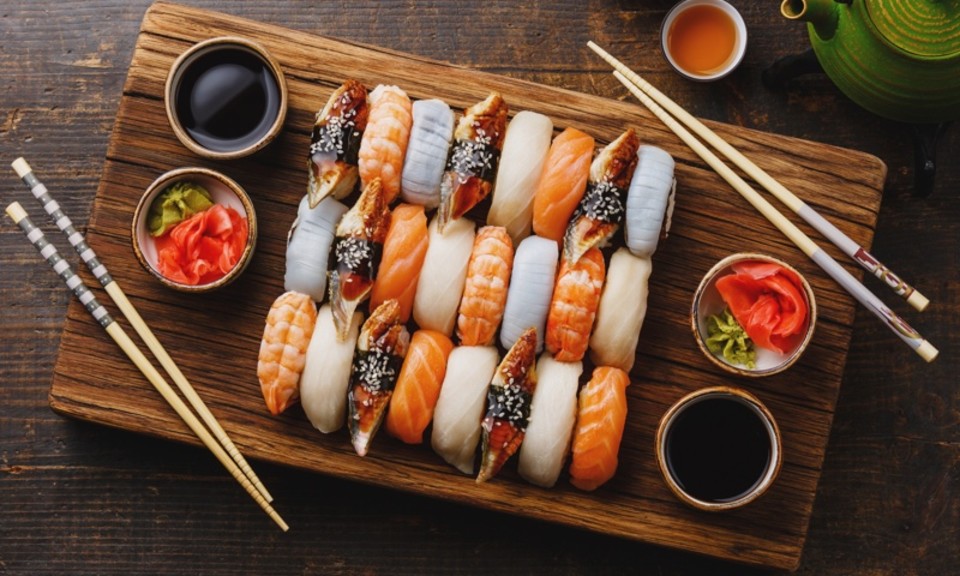 Paul
Fantastic! Delivered in 30 minutes and included ample amount of gluten free soy sauce. The soup was piping hot and perfect. The spinach appetizer was also great in texture and taste. Loved the sushi. Clearly fresh and very flavorful. Appreciated extra wasabi and ginger. Will order again from Maguro.
Debanie
I experience multiple Sushi places it it didn't go as well, however Maguro Sushi was the best Sushi place I ever order sushi from and I will order from there restaurant again. Thank you for your services.
Jackie
Bought a quick meal for my 11 year old before a concert and she gobbled it all down! Presentation was great and she couldn't get enough of the miso soup.
Enrico
Definitely the best sushi in the area. Delivery prompt, quality is outstanding and price is very honest, compared to many places midtown.
Kelly
Very good food and very quick delivery even though I didn't realize how far the place was from my job they still got here quickly
Kristin
I don't eat sushi so I can't review the many sushi offerings. I ordered tonkatsu with a side of salad (it comes with rice). The tonkatsu was absolutely delicious. It arrived hot and was crispy outside, tender inside, and very flavorful. It was also a gigantic portion -- for me, 4 meals' worth though I have a limited appetite. Two people could easily share this. Rice was rice, but the salad was a little lame -- I removed the piece of mushy-looking tomato, and the rest was a single slice of cucumber, a few mesclun leaves, and a ton of iceberg in big chunks. The accompanying dressing was very sweet. I made this OK by using a knife to chop the iceberg into bite-sized pieces. These are nitpicks though. I would readily re-order the tonkatsu, and plan to try the negimaki next.
Julie
This place is absolutely excellent. I've walked past this place a million times and finally decided to try it via Seamless after hearing about it. I eat out constantly so I'm used to good food on a regular basis but this caught my attention. I ordered the Broadway roll, steak appetizer, age tofu and tuna tartare app. just to sample everything. All of it was delicious. Very good. I'll definitely be back - even in person.
Elynn
Fast service, even when they're close to closing. I've ordered food when they're almost closed and it gets delivered no problem. Delivered from them a good number of times. Fan of the Tiger Roll and the seaweed salad and also like the chirashi. The seaweed salad is $5, but they give you quite a lot for a small order. The quality is pretty good and the delivery is fast and easy. Definitely recommend ordering from them!
Sheri
Wonderful Japanese food! Big rolls and always so fresh! I am always delighted with their vegetarian rolls while my husband raves about their regular rolls/ sushi. Delivery is always on time even though they are not located very close to my apt.! I order from them even though they are more than 20 blocks away because I find their food quality to be better than that of the more local establishments.
Aaron
I love sashimi but hate ordering it for delivery because you never know what will happen (the meal can get warm and gross or shuffled around), but Maguro's sashimi was so fresh, I had to stop and write glowing review for it. They even paid close attention to my small side request for ginger dressing, which is always appreciated. Lastly, they found my apartment without any run-around.
About us
Asian, Dinner, Japanese, Lunch Specials, Sushi
Today

Delivery: 10:30 AM - 10:30 PM

Takeout: 10:45 AM - 10:30 PM

Delivery

Monday:

10:30 AM - 10:30 PM

Tuesday:

10:30 AM - 10:30 PM

Wednesday:

10:30 AM - 10:30 PM

Thursday:

10:30 AM - 10:30 PM

Friday:

10:30 AM - 10:30 PM

Saturday:

12:00 PM - 10:30 PM

Sunday:

12:00 PM - 10:30 PM

Takeout

Monday:

10:45 AM - 10:30 PM

Tuesday:

10:45 AM - 10:30 PM

Wednesday:

10:45 AM - 10:30 PM

Thursday:

10:45 AM - 10:30 PM

Friday:

10:45 AM - 10:30 PM

Saturday:

12:00 PM - 10:30 PM

Sunday:

12:00 PM - 10:30 PM